South Korea is a lucrative market for wholesale traders. Whether you wish to buy or sell, Korean companies hold great potential to boost your business.
Often times traders make the mistake of diving into the online B2B industry without having done some prior research. You don't have to make the same mistake. In this article, we are going to discuss the top 10 B2B websites in South Korea that can seriously help your business to grow.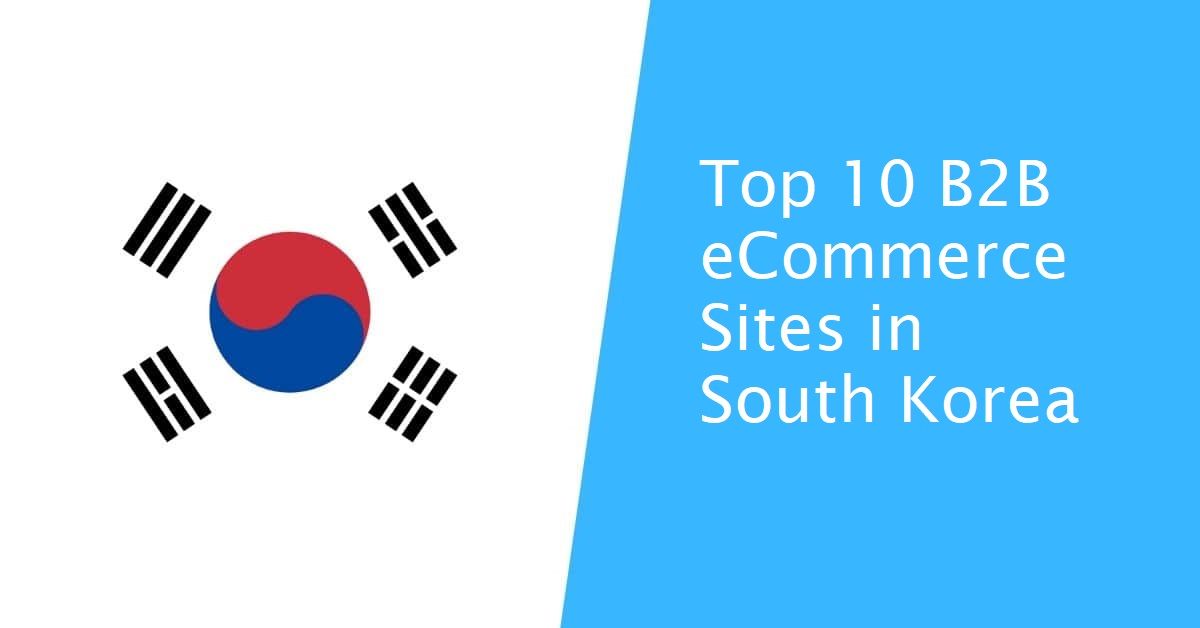 List of Top 10 E-Commerce Websites in South Korea
Everyone knows about Alibaba. It was one of the first online global B2B marketplaces. Explore their product categories and catalog, and contact your favorite brands or manufacturers to get their offers. Their sellers are known for being flexible with their pricing. Therefore, never feel afraid to negotiate their deals. If you are good at bargaining, you are likely to get leverage in different areas.
On Alibaba, you can explore the list of verified sellers and manufacturers without any membership fee. You can also ask them to share some samples of their product before placing the bulk order to make sure you get the best value for your investment. For shipment, they offer various options, such as FOB, CIF, and EXW.
Tradewheel is fast growing B2B marketplace with a massive directory of trusted suppliers from all over the world. They deal in a wide range of product categories. Among all, their top categories include fashion, cosmetics, and electronics. In their catalog, you will find all the leading brands featuring their goods at the most affordable rates. Daily, thousands of small to large scaled South Korean businesses sign up on Tradewheel to connect with reliable traders.
You can also join them to browse through the latest collection to fill your retail inventory with the best goods available in the market. It is a customer-centric B2B marketplace that allows businesses to find international buyers easily. Use it once to know why most South Korean retail businesses rely on their sellers to get the best offers. Connect with their product sellers or post free RFQs (Request for quotations) and get quick responses from them along with discounted quotations.
If you want to buy retail Korean products, why not go to TradeKorea? It is a Korean bulk trading portal that connects Korean product manufacturers and wholesalers with the entire world. In such a short time, they had a major contribution to Korea's 1 Trillion dollars in international trade last year.
They have partnered with the most dominant Korean product manufacturers operating in different industries, including industrial supplies, fashion, and many more. They have also updated their website and added some new features such as B2B matchmaking, a Buyer invite program, and Request for Quotations. These changes are likely to make your bulk buying procedure quicker and safer.
GMarket has been a big player in the B2B E-Commerce industry for over 2 decades. Despite all the challenges they faced throughout their journey, they always overcame them by giving services beyond buyers' expectations. As Korea's leading B2B site, its primary goal has been to feature maximum brands that Korean customers would buy straight away. Therefore, they only feature verified Korean brands and manufacturers on their website to make sure you can place bulk orders here with confidence.
Here, you never need to worry about their product's quality or price. Furthermore, their minimum order quantity also varies from seller to seller. Thus, it does not matter what quantity or type of product you want to buy, they have got the top suppliers to meet all your bulk needs on the best terms.
Coupang was launched back in the year 2010. However, within a short span of time, they have earned the trust of businesses by featuring top-class South Korean suppliers. Due to their exceptional customer service and discounted rates, they are also known to be a direct competitor of Amazon in South Korea. Within this particular country, they have also surpassed Amazon's monthly visitors. Therefore, some people also call it the "Amazon of South Korea."
In their product category, you are going to find all kinds of products from A to Z. Moreover, they have also collaborated with multiple brands to sell to list their products at low prices. Recently, they have also introduced some discount coupons to get up to 90% off on the purchase of certain items. Thus, if you are looking to get the right balance between prices, quantity, and quality, you can not go wrong with Coupang.
It is a Korean wholesale website that can help you get the best-priced deals on bulk items. If you like comparing the product to buy the best supplies, WeMakePrice is the B2B website you have been searching for. With their filters, you can also select the dimensions, design, weight, and other specifications instantly. Here, you can compare the reviews, prices, and other factors of the different products side by side to make sure you get the best deal in the market.
Furthermore, most of their sellers have low MOQs. Thus, even if you have a low quantity requirement or want to try a few sellers out, WeMakePrice will never let you down. You can also get great discounts on various products by using coupon codes. Connect with their suppliers to get a quick delivery, and they also give free delivery to large-scale orders.
Whether you want to buy furniture, clothing, food, cosmetics, books, or home appliances, you will find the top South Korean brands here. Explore their category to find the most extensive range of products available for sale at the market's competitive prices. Their distributors have worked with multiple Korean retailers and have assisted them source bulk quantity goods at minimum rates.
You can also connect with them to get unmatchable quotations from the sellers. After that, showcase products that catch the buyer's attention and make them come to your store every single time. You can view their product catalog for free, then why don't you give it a try and learn the reason behind their excellent customer retention rate.
InterPark has got 100,000+ products listed by verified suppliers from all over Korea. It includes top brands, white-label suppliers, and OEMs. Whether you want to place bulk orders for cosmetics, garments, or any other niche, they have got almost everything at its premium quality. In short, it is a one-stop marketplace to fill your inventory with trending items that have better profit margins and sell faster.
By using the Korean version of InterPark, you will find a list enriched with Korean distributors. This way, you can also save transportation costs and time. You only need to check this website out only once to learn why most businesses trust them to source the finest quality goods.
EC21 was launched back in the year 1997. Since then, they have maintained their customer service quality standards, and over time they only got better. Today, in the B2B industry, it is one of the most trusted websites that has assisted countless businesses in cutting their sourcing cost without compromising on quality.
It is home to thousands of wholesale products, and it also includes Korea's favorite brands for each product category. Browse through their product catalog, and you will find sellers from the USA, Europe, and all over the world. Still, if you do not find what you are looking for, try posting a free RFQ and let the international exporters come to you with a tailored offer according to your demand.
Danggeun Market was launched back in the year 2015. For several years, it has been the hub of wholesalers. You can use their app/website to place orders for fresh fruits, clothes, and furniture at wholesale rates. Unlike other marketplaces, they have also listed second-hand items that are still in good condition.
It is based on the largest physical wholesale market located in Seoul, open 24/7 with more than 2,000 stores. Plus, they have also listed multiple manufacturers and suppliers from all over South Korea. Therefore, you will find all the products available at wholesale prices under a single platform.
FAQ
Which South Korean retail businesses are most profitable?
There are several profitable businesses in South Korea. Primarily, you need to understand their buying behavior as they have a very different buying behavior than the rest of the world. Still, retailers with a variety of brands in the following niches have been most profitable in the last few years.
Electronics

Cosmetics

Mobile Phones

Cars/Bikes
What should I look for while buying wholesale goods to retail for South Korean buyers?
Most South Koreans are Brand conscious rather than price sensitive. Furthermore, they also have strong buying power. Therefore, you should always look for branded items without worrying about the price.
How long does it take to ship bulk items within South Korea?
Geographically, South Korea is a small country. Therefore, if you are buying from wholesalers within the same country, you should expect nothing more than 2-4 business days to receive your goods. However, it can also vary depending on what items you are looking for.